Company Culture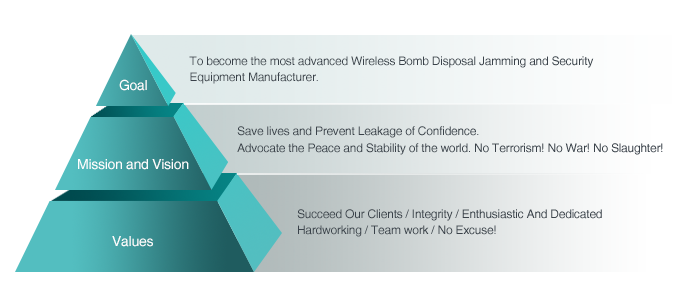 Our Mission and Vision
Mission
Save lives and Prevent Leakage of Confidence.
Vision
Advocate the Peace and Stability of the world.
No Terrorism! No War! No Slaughter!

Our Values
Succeed Our Clients
To meet clients' demand is our driving force.We provide high-quality products with the most professional solution.
Integrity
we keep our promise,scrupulously abided by business morality and business credit.
Enthusiastic And Dedicated
Never give up. Positive. Specialize in our field.
Hardworking
The increasing development of one company relies on all the employees' hardworking.
Team work
One goal, Team spirit. Mutual Share. Success is the success of the team. Failure is everyone's shame !
No Excuse!
Be responsible, Follow the order, Finish task, Excuse is a shame in the work!

Our Goal
To become the most advanced Wireless Bomb Disposal Jamming and Security Equipment Manufacturer.